Printer-friendly version
2016 Southern Graduate Music Research Symposium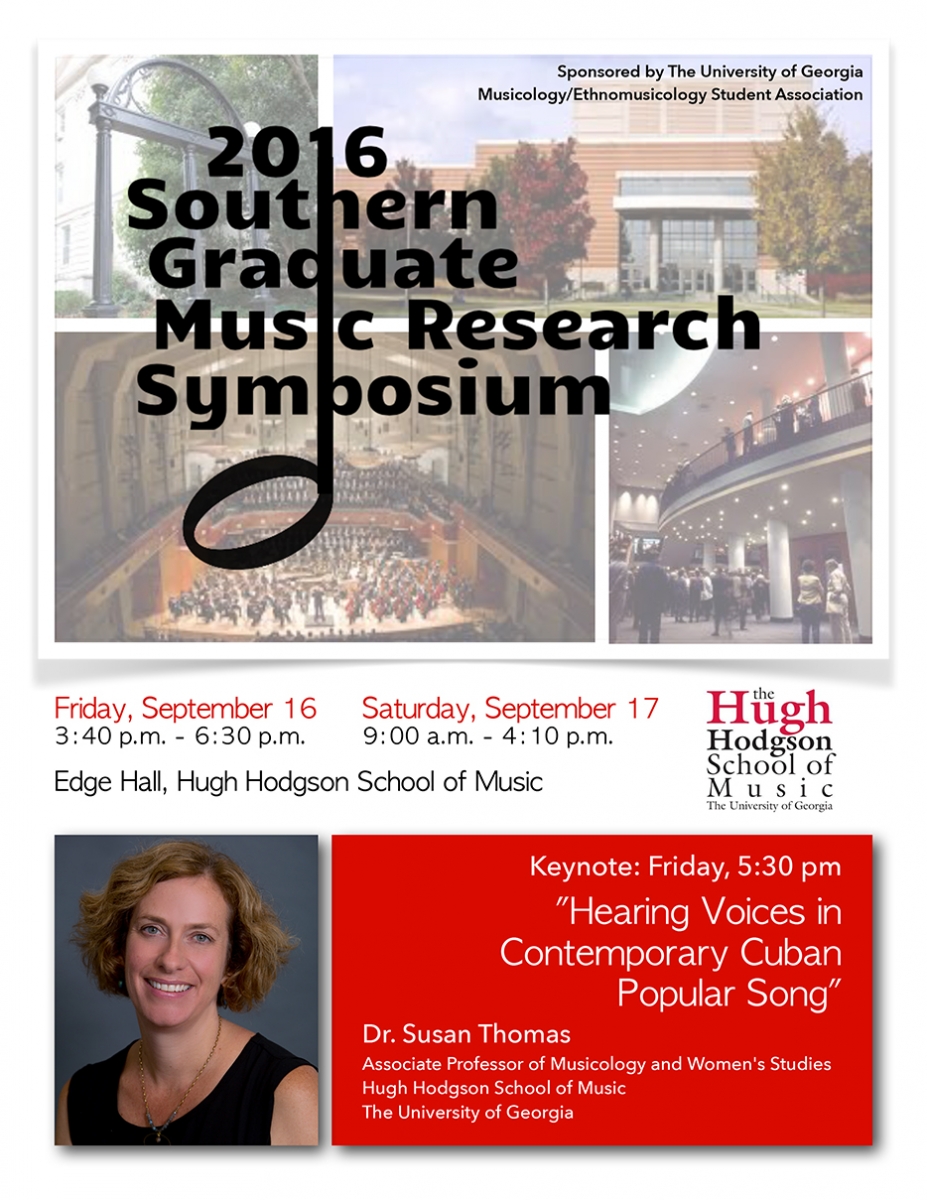 University of Georgia, Athens, September 16-17, 2016
The University of Georgia Musicology/Ethnomusicology Student Association is pleased to announce the sixth annual Southern Graduate Music Research Symposium, Friday and Saturday, September 16-17, 2016 at the University of Georgia Hugh Hodgson School of Music in Athens, Georgia. 
The symposium will run Friday afternoon through Saturday afternoon with a keynote presentation by Dr. Susan Thomas on Friday at 5:30 p.m. Fifteen student papers will be presented over the course of the two days. Please click here for abstracts of papers to be presented.
UGA students are committed to making this symposium as affordable as possible for all attendees. Overnight accommodations with student hosts will be available and a $15 registration fee will cover the cost of dinner on Friday and breakfast and lunch on Saturday. 
Please click here to register.
The Southern Graduate Music Research Symposium is a collaborative event, organized by and for graduate students, whose mission is to support graduate student research in music and to foster a collegial research environment among regional schools in the South.
Schedule
Friday, September 16, 2016
3:40 Welcome from Dr. Monson
3:45-5:15 Popular Music and Aesthetics
Zachary Diaz (Stephen F. Austin State University), "The Use of Musical Sampling in the Beastie Boys' Paul's Boutique and 'The Sounds of Science'"
John Hausmann (University of Cincinnati College-Conservatory of Music), "Whiteness, Musical Borrowing, and Ethnic Boundary Policing in the Parodies of Cledus T. Judd"
John Mattessich (Florida State University), "This Flow Ain't Free: An Examination of Generative Elements in the Music of Kendrick Lamar"
5:30-6:30 Keynote
Dr. Susan Thomas (The University of Georgia), "Hearing Voices in Contemporary Cuban Popular Song"
Saturday, September 17, 2016
9:00-10:30 Style and Signification
Cameron Steuart (The University of Georgia), "Viotti's Changing Style: The Influence of the Tourte Bow"
Gui-Hwan Lee (University of Cincinnati College-Conservatory of Music), "Unisons and Gesto in Luciano Berio's Sincronie for String Quartet (1964)" 
Joshua Bedford (The University of Georgia), "Reexamining Violence in Dmitry Shostakovich's Music" 
10:40-12:10 Transnationalism in Song
Joachim L. Polack (University of Florida), "Transnationalism as Modernism in Antônio Carlos Jobim's Bossa Nova Repertoire" 
Lauro Iglesias Quadrado (Federal University of Rio Grande do Sul, Brazil; Fulbright Scholar at The University of Georgia), "'O Would the Atlantic Were All Champagne': The Presence of Popular Music in John Dos Passos's Manhattan Transfer"
Jenitha Kameli (Florida State University), "Latin American Music in Africa: The Case of a Tanzania Musician Salum Abdallah and His Adoration for Cuban Music"
1:00-2:30 Community Connections Through Fieldwork
Jenn LaRue (The University of Georgia), "In Search of the Mũtũrĩrũ: Preserving a Piece of Kenya's Agrarian Past Through Flute Music"
Emily Ruth Allen (Florida State University), "'Never Forget': The Holocaust Survivor Band Members as Musical Witnesses"
Carrie Danielson (Florida State University), "Composing Childhood: Movement, Mimesis, and Musicking at a Tallahassee Community Center"
2:40-4:10 Nationalism and Identity
Mary Helen Hoque (The University of Georgia), "'True Hundred-Per-Cent Americanism': American Music's Identity Crisis, 1890-1945"
Nate Reuchel (Florida State University), "Irish Traditional Music in Southern Oconto County"
Jeffrey Taylor (University of Memphis), "Musical Pan-Celticism at the 1975 Veillées d'automne"